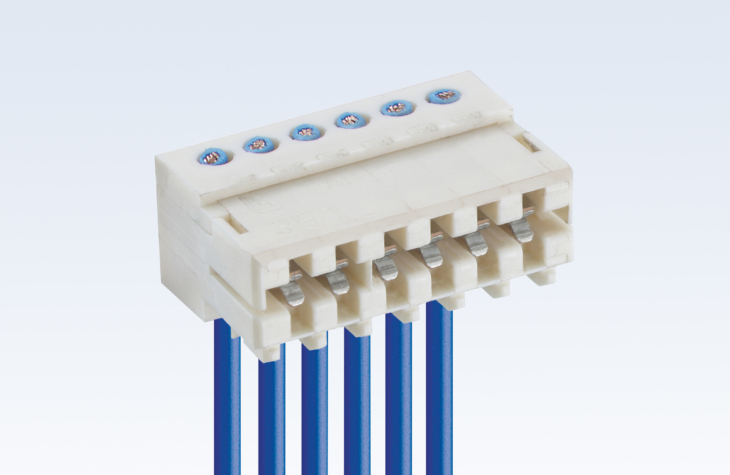 Press Release
Premiere at Lumberg: RAST 2.5 for 1 mm Printed Circuit Boards
Schalksmühle, 01.10.2022. The market for printed circuit boards just one millimeter thick is growing – and has great potential. 1-mm circuit boards are used, for example, in the fields of microelectronics, medical technology and automotive electronics, here especially in high-performance LED headlights.
The 1-mm PCB is increasingly used where challenges exist in terms of confined installation spaces, desired weight savings or optimization of cooling. It can be a good alternative to the common 1.6 mm PCB, which stores more thermal energy.
In order to be able to contact these PCBs efficiently, Lumberg now offers the RAST 2.5 direct connector, which has been tried and tested billions of times, for the 1 mm PCB. The new connector with the type designation 3517-5 comes with a proven layout: with a contact pitch of 2.5 mm, with secure locking on the PCB, optionally with or without keying rib and closed sides, for single conductors – and of course with the great advantage of economical and efficient automated harness assembly using insulation displacement technology (IDT).
With the 3- to 9-pole connector, 10- to 20-poles on request, with contact resistance ≤ 5 mΩ, rated currents of 4 A (at Tamb 60 °C) or 2 A (at Tamb 100 °C) at a rated voltage of 32 V can be realized.
Total no. of characters incl. blanks: 1.339
Media Contact:
Lumberg Holding GmbH & Co. KG
Im Gewerbepark 2
58579 Schalksmühle
Germany
Kai Rotthaus
T +49 2355 83-1275
press@lumberg.com
Product
Article as PDF
Printable Photo