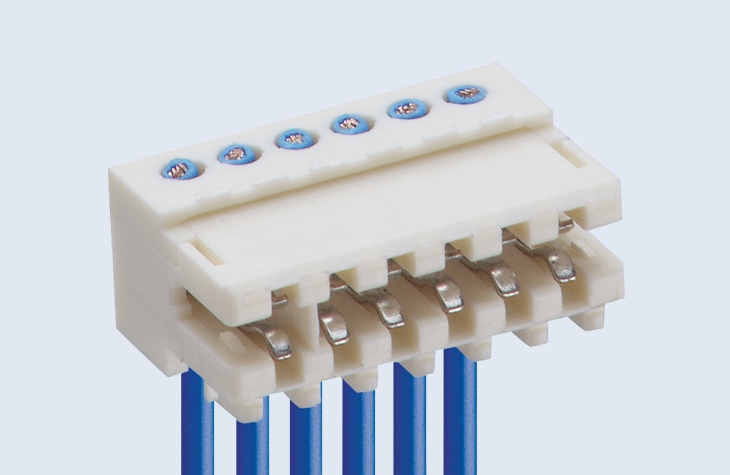 Press Release
Maximum Retaining Force: Over 13 N for RAST 2.5 Connectors
Schalksmühle,11 March 2016. Lumberg, as a specialist for RAST connectors in insulation displacement technology, is once again expanding its product range by the new 3517-4 model. Demands are ever-increasing, even specially formulated by the automotive industry, when it comes to retaining forces and lock on the PCB edge for direct connectors – a highly space-saving and economical solution – of RAST standard with a contact pitch of 2.5 mm. With Lumberg already grading its products by retaining force, the new 3517-4, with optional keying rib and closed sides, reaches an outstanding retaining force of ≥ 13.4 Newton. This is made possible by the reinforced locking toes inside the reliable geometry of the casing which ensure a higher mechanical retention on the printed circuit board without taking up additional casing space.
This new model from the RAST 2.5 connector range with a proven track record for cars can also mate with existing harnessing machines with single wires of a diameter ranging between 0.22 and 0.38 mm² and insulation resistance of up to a max. 1.6 mm.
Suitable for application in temperatures between -40 to +130 degrees Celsius and with a rated voltage of 32 V AC, the new additional direct connector version shows its diversity and convenience of use with small load currents of up to 4 Amps (Tamb 60° C). The connector comes with 2 to 9 poles and two different materials for the insulating body. Next to PBT GV of V0 flammability standard according to UL 94, there is also a glow wire resistant version (GWT 750° C) in PA of a V2 flammability rating according to UL 94. Both carry tin-plated contact springs made of bronze.
Total no. of characters incl. blanks: 1.712
Media Contact:
Lumberg Holding GmbH & Co. KG
Im Gewerbepark 2
58579 Schalksmühle
Germany
Kai Rotthaus
T +49 2355 83-1275
press@lumberg.com
Article as PDF
Printable Photo