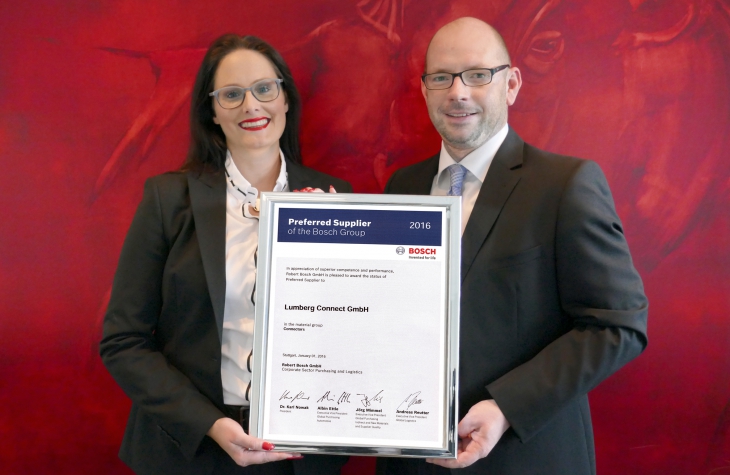 Press Release
Highest Recognition from Bosch for Lumberg
Schalksmühle, 11 November 2016 "In appreciation of superior competence and performance", Robert Bosch GmbH honored Lumberg Group for the second time in a row with the Preferred Supplier status. This is how Bosch Group acknowledges Lumberg's outstanding performance of the past years, by including the company in its line-up of most relevant strategic suppliers.
"We are genuinely proud that our technological competence as a manufacturer of connectors and customized sub-assemblies, our passion for connections and our agility as a company have been recognized by such an important client as Bosch, which allows us to further strengthen our cooperation in the future", says Meike Schmidt, Managing Partner of Lumberg Group.
For over 60 years, Lumberg has been supporting Bosch Group with innovative products made specifically for the Automotive, Heating and Home Appliance business segments. The spectrum runs almost across Lumberg's entire product range, from Micromodul to RAST 2.5/5 connectors, to multiple customized developments for mechatronic sub-assemblies.
The recognition now awarded distinguishes the trustworthy cooperation and the shared successes of the past decades. "It should be emphasized that the close personal, but also professional ties with Bosch in all business units and the collaborative coordination between the development departments inspires us time and again to come up with new ideas and find different solutions", says Christian Forner, Head of Global Sales of Lumberg Group. "The award is a clear signal to further intensify our cooperation in future and to continue to create fresh impetus."
Bosch's Preferred Supplier Award is tied to a list of strict criteria, such as proof of the ISO/TS 16949 or ISO 9001 quality certification or the ISO 14001 environmental certification. This status is granted to few suppliers only. The Preferred Supplier status applies worldwide for all Bosch factories and all business units of the world's largest technology group and automotive supplier.
Total no. of characters incl. blanks: 2,059
Media Contact:
Lumberg Holding GmbH & Co. KG
Im Gewerbepark 2
58579 Schalksmühle
Germany
Kai Rotthaus
T +49 2355 83-1275
F +49 2355 83-471275
press@lumberg.com
Article as PDF
Printable Photo